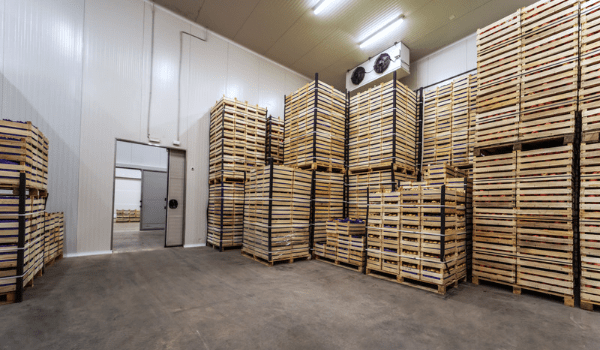 Cold Storage Warehouse: The Basics
The journey our perishable foods and medicines take is commonly known as logistics services or, the cold supply chain. This type of delivery service requires careful planning in order to safely and effectively move items from one side of the world to the other. But as much as we talk about transportation, another important aspect of cold chain logistics is refrigerated housing.
What Is Cold Storage?
The storage of any temperature controlled substance inside refrigerated warehouses that prevents it from growing harmful bacteria. There are several examples of different temperature controlled facility options for your business to consider, for example:
The business or manufacturer may have a privately owned cold storage facility located nearby where they store products before shipping.

Businesses may have a cold storage facility on-site to house their products before use. Restaurants, hotels, and hospitals are all good examples of businesses requiring cold storage.

Most businesses choose to outsource their cold storage needs to a third party logistics provider.
Refrigerated freight of fresh or frozen foods is more costly than dry freight, so many manufacturers outsource their cold storage. As demand for the transportation of refrigerated goods increases, so does demand for value-added services.
Customers often have stricter requirements for the third-party logistics (3PL) providers they outsource to. As a result, most carriers usually have a lower return on investment for cold storage.
Customers are driving the rise of the cold storage sector, looking for enhanced storage options to meets their needs. There are many food and product safety regulations attached to each type of product that requires its own cold storage and transportation. This logistical problem takes precision and expert planning in order to work.
Types Of Cold Storage And Temperature Range
Refrigerated Containers or Reefers:
This is the most basic and cost effective way to quickly store and cool food before it reaches its final destination. They provide extra flexibility and are used for both stationary as well as mobile use.
Blast Freezers:
Ideal for companies that need to cool and store food rapidly. Larger restaurants, hotels, and catering companies often use freezers for their cold storage needs.
Cold Rooms:
A larger, non-mobile alternative to the options listed above.
Medical Grade Cold Storage:
Hospitals and research institutions may make use of pharmaceutical grade cold storage units. These units are equipped with extra features that make them ideal for medicines, blood, and certain vaccines.
Preferred Storage Service (3PL):
As discussed, companies who use cold storage often have several intricate requirements due to their items and customers. To avoid the expense of a local facility, they may use exclusive cold storage service from a third-party logistics provider.
Distribution Center
These options usually have very affordable payment methods with the option to rent space a lot of the time. These facilities usually operate at a very fast pace and handle the export of products in small delivery windows such as 24 hours.
Cold Storage Warehouse Logistics In Los Angeles
Evo Logistics' cold storage facility is over 32,000 square feet and consists of four separate coolers. This modern temperature controlled warehouse is able to monitor and store our customer's temperature sensitive products.
We Provide The Following Handling Needs:
Palletizing
Re-Weighting
Re-gelling
Re-packaging
Re-icing
Dry Storage
Cold Storage
Cross-docking
Quality Report Inspections
Contact us today to see if Evo Logistics can help you with your ambient temperature and cold supply needs.